Although it has an internet penetration rate of only 20.4 percent, lower than many countries in Asia Pacific, Indonesia is one of the countries with the highest number of internet users in the world; as of 2016, 88 million out of the country's total population of almost 260 million were active internet users. Due to blocked content and various restrictions on media freedom, Indonesia was ranked partly free in the Freedom House Index 2016, which ranks countries according to their degree of internet freedom, with 44 index points.
Many Indonesians access the internet regularly through their mobile devices. As of 2016, an estimated 26.5 percent of the population accessed the internet from their mobile phone. This figure is forecast to jump to almost 40 percent by 2021. Indonesia is a leader in the region in terms of mobile web usage. Excluding apps, Indonesians spent, on average, 66 minutes on the internet via their smartphones on a daily basis. It was found that smartphone users in Indonesia spent an average of 69 minutes every day on mobile apps. Only Filipinos have a higher daily average of mobile app usage in the region. The most popular Android app in Indonesia is BBM with a 90 percent reach, followed by Google Play and Google Search.
While there is a large base of active social media users in Indonesia – the country ranks third in number of social media users in Asia Pacific – social media penetration in the country is below the region's average. As of 2016, 34 percent of the population in Indonesia was monthly active social media users, logging on to social media services at least once a month. However, social network user penetration in the country is projected to increase in the coming years, with forecasts to amount to about 43.6 percent by 2021. The most popular social network in Indonesia is Facebook with a daily reach of 77.6 percent as of 2016. That year, nearly 30 percent of the population in Indonesia used Facebook. By 2021, Facebook penetration rate in Indonesia is forecast to reach 40.6 percent. Instagram ranked second in daily reach in 2016.
In regards to digital buying, the Indonesian market shows optimistic projections. In 2021, e-commerce sales are set to surpass 14.47 billion U.S. dollars in revenues, up from 5.65 billion U.S. dollars in 2016. The number of digital buyers in the country, people that are expected to buy goods and services online, is projected to nearly double between 2015 and 2021.
<small>This text provides general information. We assumes no liability for the information given being complete or correct. Due to varying update cycles, statistics can display more up-to-date data than referenced in the text.</small>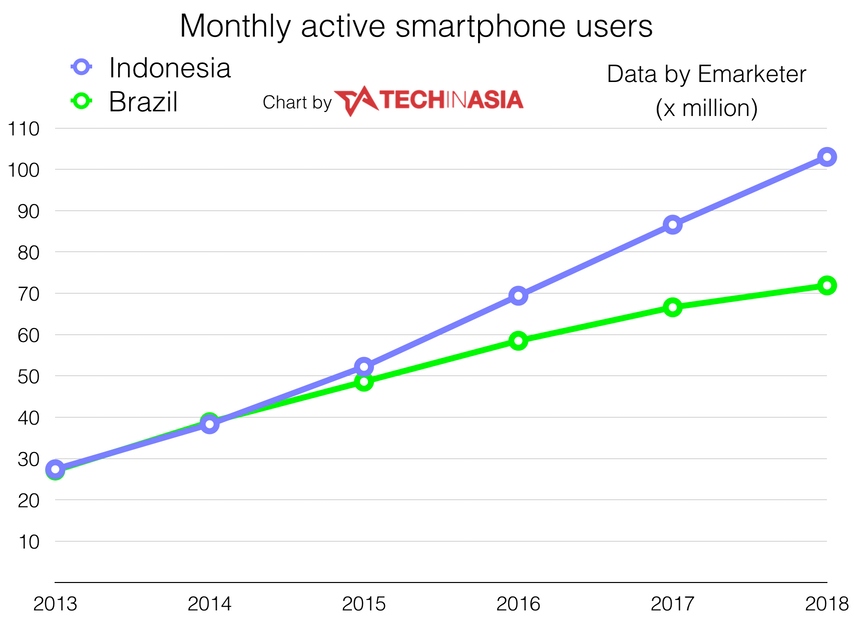 Recent data from eMarketer show that around one-third of the Indonesian population are active social media users (platforms such as Facebook, Instagram, Twitter, Line, Whatsapp and Path). It is interesting to note that Indonesians not only use these platforms for communication but also as e-commerce platforms for small and mid-sized enterprises.
eMarketer added that the number of smartphone users in Indonesia is expected to rise from 55 million in 2015 to 92 million in 2019 on the back of Indonesia's economic growth, the availability of affordable 4G smartphones on the Indonesian market and further development of Indonesia's 4G network. Currently Indonesia is already the third-largest smartphone market in the Asia-Pacific region (after China and India).
Smartphone Growth in the Asia Pacific:

Number of Smartphone Users
(in million)
 2015
2016
2017
2018
2019
China
 525.8
 563.3
 599.3
 640.5
 687.7
India
 167.9
 204.1
 243.8
 279.2
 317.1
Indonesia

  55.4
  65.2
  74.9
  83.5
  92.0
Japan
  51.8
  55.8
  58.9
  60.9
  62.6
South Korea
  33.6
  34.6
  35.6
  36.5
  37.0
Philippines
  26.2
  29.9
  33.3
  36.5
  39.2
Vietnam
  20.7
  24.6
  28.6
  32.0
  35.2
Source: eMarketer
Growing Internet and smartphone penetration in Indonesia is supported by the government's plan to develop an information highway with broadband services for all 514 regency and municipal capital cities across the country by 2019 (through the Palapa Ring project). This project involves the development of 11,000 kilometers of undersea fiber-optic cables, divided into three sections: (1) west, (2) central and (3) east. Whereas 4G markets in advanced economies such as the USA and Japan have become saturated, Indonesia still offers a new and attractive market for 4G technology with 60 percent of the population still being offline. After India and China, Indonesia has the highest amount of citizens who are not connected to the Internet.
The rising number of Indonesian Internet and smartphone users will surely boost Indonesia's e-commerce industry. Last year, The Indonesian E-Commerce Association (idEA) estimated that the number of Indonesian online shoppers will touch the figure of 10 million in 2016, implying earnings in Indonesia's e-commerce industry should more than double to IDR 20 million this year. By 2020, the idEA expects the online retail industry to account for five percent of Indonesia's economy (from 0.7 percent in 2015).
That is why..
INDONESIA ONLINE POSITIONING
Indonesia has become the world big 5 leader in Internet market and technology. The terms BRICI (Brazil – Russia – India – China – Indonesia) represent countries that has tremendous internet growth in terms of market and technology capabilities.
Indonesia with its 30 million internet user represent only 12.3% of its entire population. With its standard growth rate of 20% each year its not hard to imagine its potential online market.
Other than the fact that Indonesia has huge internet user, they are also several interesting facts that put Indonesia as one of world internet super power.
Internet Freedom
The history of Indonesia internet infrastructure dated back in 1997 when internet had just enter Indonesia. All ISP that provide internet
Internet connection has to connect independently to each other, causing a cluttered and inefficient cable infrastructure Realizing the problem and future issues, several 'internet guy' initiate the Indonesia Internet Exchange using hardwares that given to them from many vendors that has the common interest and idealism. Other ISP that realizing the prospect has also contribute by connecting their infrastructure to this Indonesia Internet Exchange.
The result is a non-governmental internet exchange that controlled entirely by independent party. Own and controlled by public has made Indonesia the last bastion of internet freedom in the world.